So far it has been a very busy month for me. It seems the more I do the more there is to do. I can't seem to get my bearings at all lately. I have been trying to figure out whether I want to use U-haul or a Mover; as my friend that was going to drive for me seems to have gotten quite sick. I have been thinking of getting a Pack Rat container to move to their storage lot for the things I don't need immediately. While all this is going around and around in my head I am praying the house gets sold and we get what we want and desire in New York.

So I guess what I need from you folks are your prayers and best wishes. However, if you live in the area I do, I sure could use a few bodies to get this mess in order and ready! I need a few competent friends to repack and pack before moving day. Then I need some really fit fellas to load the truck. I would not expect the 'movers' to do it for nothing but you and I need to know each other. I also need someone to help me organize a yard sale half way through next month. Knowing that things working just as I would like is probably quite possible; but not very probable I will just 'inch' on by myself and pray a lot.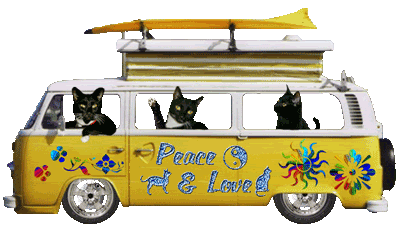 www.whisperandguapo.com

Now those kitties have the right idea! Full of idealism and heart and short on on luggage!